"Sometimes one, sometimes five
The white shadow that moves unseen..."
KAGAKU NINJATAI GATCHAMAN!

SCIENCE NINJA TEAM GATCHAMAN!
Welcome to the V&V Emporium's Gatchaman page. Whenever possible these conversions are based on the original Japanese series, Gatchaman. If you aren't familiar with the series, or wish to learn more, I then recommend you check out the links listed below. Join the Science Ninja Team Gatchaman as they protect the world from the evil menace known as the Gallactor Syndicate.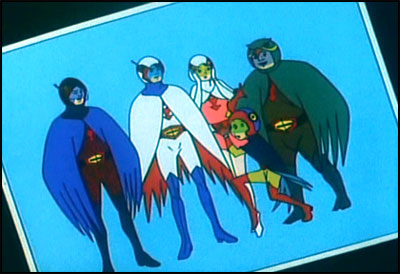 GATCHAMAN
G-1 [Eagle Ken]
G-2 [Condor Joe]
G-3 [Swan Jun]
G-4 [Swallow Jinpei]
G-5 [Owl Ryu]
ALLIES & FRIENDS
Chief Anderson
Dr. Kozaburo Nambu
Kentaro Washio (The Red Impulse)
Masake (Red Impulse Squadron)
Oniishi (Red Impulse Squadron)

VILLAINS
Berge Katse
The Blackbirds
The Devil Stars
Gallactor Commanders
Gallactor Goons
Sosai X
GATCHAMAN LINKS